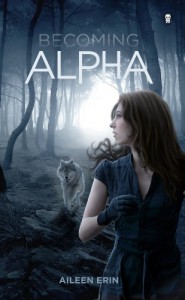 Series: Alpha Girl #1
Publisher: Ink Monster
Publication Date: 17 December 2013
Genre: Paranormal Romance
Source: Publisher (In exchange for an honest Review)
Goodreads Synopsis:
Tessa McCaide has a unique talent for getting into trouble. Then again, it isn't easy for a girl with visions to ignore what she sees. Luckily Tessa and her family are leaving California and moving halfway across the country, giving her the perfect opportunity to leave her reputation as "Freaky Tessa" behind.
But Tessa doesn't realize that kissing the wrong guy in her new Texas town could land her in far more trouble than she ever imagined. Like being forced to attend St. Ailbe's Academy, a secret boarding school for werewolves.
Even if the wrong guy did accidentally turn her into one of "them" and doom her to attending the weirdest high school ever, Tessa can't help her growing attraction to the mysterious Dastien Laurent.
When vampires attack St. Alibe's and her visions pinpoint an enemy in their midst, Tessa realizes that boy drama and her newfound canine tendencies might just be the least of her problems.
Review:


This was an amazing book. I was completely hooked from page 1 - I loved this book! For me this was one of those books where I couldn't read fast enough to see what happens next.
Characters: 5/5


Aileen creates well developed and lovable characters. I connected easily with all of the characters and grew attached to all them quickly.
Tessa - I loved that Tessa doesn't fight her crush for Dastien at first. She is awesome and different. I adored her sibling bond with Axel and loved her friendship with Meredith. Tessa was easy to connect with. I cannot wait to find out more about her witch side and see how her relationship with Dastien will grow in the rest of the series. Tessa is definitely my favourite character in this book.
Axel - Axel is Tessa's awesome older brother. He is caring, naughty, and looks after Tessa exactly like an older brother should. He is one of my favourite characters.
Dastien - Dastien mysterious at first and completely swoon-worthy. He is witty, smart and possibly the most awesome boyfriend to have in this book. Dastien can be a bit dense at times when it comes to Tessa - In a way its sweet that he cares so much and keeps messing up and on the other hand you just want to shake some sense into him. I absolutely adore Dastien!!
Meredith - Meredith is such a great friend. She is easy to connect with (From Tessa and reader POV), understanding and accepting. After all Tessa has been through, she is so lucky to have a found a great friend like Meredith.
Shannon and Imogene - Imogene is such a weird name. Both of these characters annoyed me a lot.
Writing style, plot, pace: 5/5


Aileen has a writing style that draws you in immediately. I quickly became addicted to this book. The pacing is perfect and the plot was interesting. Becoming Alpha definitely drew me in hook, line and sinker. Aileen does some great world building which is simple and easy to navigate.
Cover: 4/5

- I actually really liked this cover. The more I look at it, the more I love it and after reading the story, you can see how perfect it is.
Final Thoughts: I will definitely be reading the rest of this series and maybe even buying a paperback to add to my bookshelf.
My only defense for being so dense was that it was before eight AM. Anything before ten AM and I'm lucky if I can speak my native language coherently.




~

Ice cream, I needed lots of ice cream. even if it was my breakfast. It had milk and maybe eggs. That totally counted.




~

"No time to stop and chat. things to do. Places to escape from." I took off running.




~

He had an amazing voice. I shoved him. "Okay. I got it. When it comes to music, we're totally weirdo twinkies."
Author Bio:
Aileen Erin is a lover of all things nerdy—from Star Wars (prequels don't count) to Star Trek (TNG FTW), she reads Quenya and some Sindarin, and has a severe fascination with the supernatural. Aileen has a BS in Radio-TV-Film from the University of Texas at Austin, and an MFA in Writing Popular Fiction from Seton Hill University. She lives with her husband in Los Angeles, and spends her days doing her favorite things: reading books, creating worlds, and kicking ass.
Author Links:
Goodreads l Twitter l Website