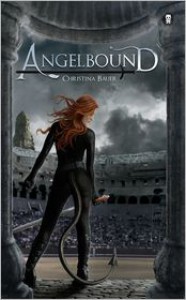 Series: Angelbound #1
Publisher: Ink Monster LLC
Publication Date: 17 December 2012
Genre: Paranormal Romance, Fantasy,
Source: NetGalley - In exchange for an honest Review


Goodreads Synopsis:
Eighteen year old Myla Lewis is a girl who loves two things: kicking ass and kicking ass. She's not your everyday quasi-demon - half-demon and half-human, girl. For the past five years, Myla has lived for the days she gets to fight in Purgatory's arena. When souls want a trial by combat for their right to enter heaven or hell, they go up against her, and she hasn't lost a battle yet.

But as she starts her senior year at Purgatory High, the arena fights aren't enough to keep her spirits up anymore. When the demons start to act weird, even for demons, and the King of the Demons, Armageddon, shows up at Myla's school, she knows that things are changing and it's not looking good for the quasi-demons. Myla starts to question everything, and doesn't like the answers she finds. What happened seventeen years ago that turned the quasi-demons into slave labor? Why was her mom always so sad? And why won't anyone tell her who her father is? Things heat up when Myla meets Lincoln, the High Prince of the Thrax, a super sexy half-human and half-angel demon hunter. But what's a quasi-demon girl to do when she falls for a demon hunter? It's a good thing that Myla's not afraid of breaking a few rules. With a love worth fighting for, Myla's going to shake up Purgatory

My Review:
Angelbound's opening chapters definitely captures your attention and sets a great introduction to the story. It has an intriguing and unique story line. I haven't read a story like this before. Christina describes and creates her characters brilliantly.

Characters 4/5
Myla - Myla has spunk and attitude. I like her - she is a kick-ass heroine who is always up for a challenge. I like her nicknames for the ghouls. I enjoy that her demon side is such a big part of her, yet it does not define her. I did figure out where the story was going with Myla but enjoyed the ride none the less.
Walker - Walker is cool and covers for Myla well, like an older brother. He remains loyal to his oaths, and is just an all round great character.
Camilla (Myla's mom) - I find her journey/past fascinating as it combines with Myla's story. She plays a great role (besides Myla's mom) and understanding her throughout the book is just touching.
Queen Octavia - I like her. She is smart, nice and observant. She sees more than meets the eye. I think that other than the main characters, Octavia is my favourite character in the story.
Lincoln - Lincoln is an intriguing character. They initial denied attraction between him and Myla I find fascinating and I love every moment he steps up to a few parts in the story (with him and Myla and as High Prince). He is strong and determined.
Myla & Lincoln - I love their competitiveness and interactions This is a really sweet, yet intense romance. I am looking forward their story. They are a great match, together and as a fighting team.
Plot, Pace,
Writing style & Cover 4/5
The pace of the story is good and Christina has an easy writing style to follow. She creates lovable, well rounded characters and a story filled with action. The world building is great. I absolutely loved the cover.
I will definitely be continuing with this series.
On an extra note I loved the acknowledgements - Christina's sassiness comes through and you can see she is awesome.
My Rating:
Books in the series:
Rage shoots up my spine. What a scumbag. If he stopped thinking with his pants for two seconds, he'd notice my demon tail instead of my boobs and butt.




~

I lean forward, Octavia whispers in my ear. "I'm helping you, my dear, because you and I are the only two females in this vicinity who aren't nit-wits." My faces stretches into a grin. "I like you Octavia." "Do you?" A smile dances in her eyes. "Go put on your armor."
Author Bio:
Christina graduated from Syracuse University's Newhouse School with BA's in Television, Radio and Film Production and English. An avowed girl geek, Christina loves creating immersive fantasy worlds with action, adventure, romance, and kick-ass female protagonists. As part of her work in Ink Monster, Christina has co-developed the 'Heroine's Journey,' a blueprint for telling female myths inspired by the work of Joseph Campbell. She lives in Newton, MA with her husband, son and golden retriever Ruby
Author Links:
Goodreads
l
Twitter
l
Facebook
l
website